DVD-R disc duplication is the ideal solution when you need to order less than 500 DVDs.

CCSS Inc. DVD duplication services has never been easier. We offer packaging solutions to accommodate your needs. Our direct-to-disc printing assures that even the smallest orders look amazing.

Short-Run DVD disc duplication gives you the flexibility to meet fast deadlines, and not lose the look and feel of DVD-ROM.

We pride ourselves on our quality and on time deliveries.

Standard Short-Run DVD duplication orders are completed within 1-2 business days from art approval.
---
DVD Short-Run Duplication Services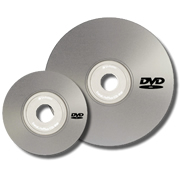 DVD standard size
3in mini round DVD
DVD 5: single sided/single layer (4.7GB)
DVD 9: single sided/dual layer (8.5 GB)
Quality You Can Trust
Your disc solution for DVD orders of less than 500
Only high quality media used
Full color direct-to-disc printing available
Packaging and Custom Printing
DVD Content Services available
DVD-R Duplication Pricing   (General Purpose DVD-R 4.7 Gb)
1 to 50 Copies
$1.50 ea
51 to 100 Copies
$1.40 ea
101 to 500 Copies
$1.30 ea
Price Includes Black Printing Bulk Packed

---

Call 703.433.0050

---

DVD Mastering Pricing
From USB Drives
$85.00
From Tape
$85.00
Additional Options
Tyvek Sleeves with Window
$0.09
Paper Sleeves With Window
$0.05
Ameray Style DVD Case
$0.40
Jewel Case
$0.25
C Shell
$0.24
Jewel Case Color Printed Back Card
$0.50
Jewel Case Color Printed Front Card
$0.50

---

Duplication vs. Replication

DVD Duplication is the process of burning data onto an existing pre-structured dye treated media (DVD-+R). This process is perfect for small quantities as well as larger quantities that require fast turnaround times. CCSS, Inc uses high quality media and R-Quest professional duplication systems to make your project a success.

DVD Replication is a manufacturing process specifically engineered for DVD 5, DVD 9 and DVD 10s larger runs. This process is referred to as stamping or molding. The DVD is created by injecting polycarbonate into a die. The die was created from the glass master, which in turn was created from your master DVD. DVD Replication is used for large quantity orders, normally 500 and higher. Turn times are slightly longer than duplication in short run quantities.

Regardless of the method that is right for your particular job, CCSS experience of CD DVD media technology, packaging, distribution and customer service. Your experience with us will be a rewarding one.

We pride ourselves on our quality and on time deliveries.



---

DVD-R Duplication Turn Around Time 250 Units a Shift.
Minimum Invoice of $50.00




---